For Hits and Giggles Golf League

CLICK HERE TO REGISTER FOR WEEK 4

We are no longer taking new registrations for this season of Hits and Giggles. We apologize for any inconvenience. If you have already registered, you still need to pay in advance for each week to secure your spot.
Thank you to everyone for coming out! Due to high demand we ask that you prepay ahead of time by following the link above, or signing up in the Pro Shop by Tuesday at the latest. The field is limited to 64 players each week and reservations are taken on a first come, first serve basis.

WE CANNOT GUARANTEE AVAILABILITY IF YOU TRY TO PAY DAY OF OR WALK-IN. PLEASE SIGN UP BY TUESDAY.

Thank you!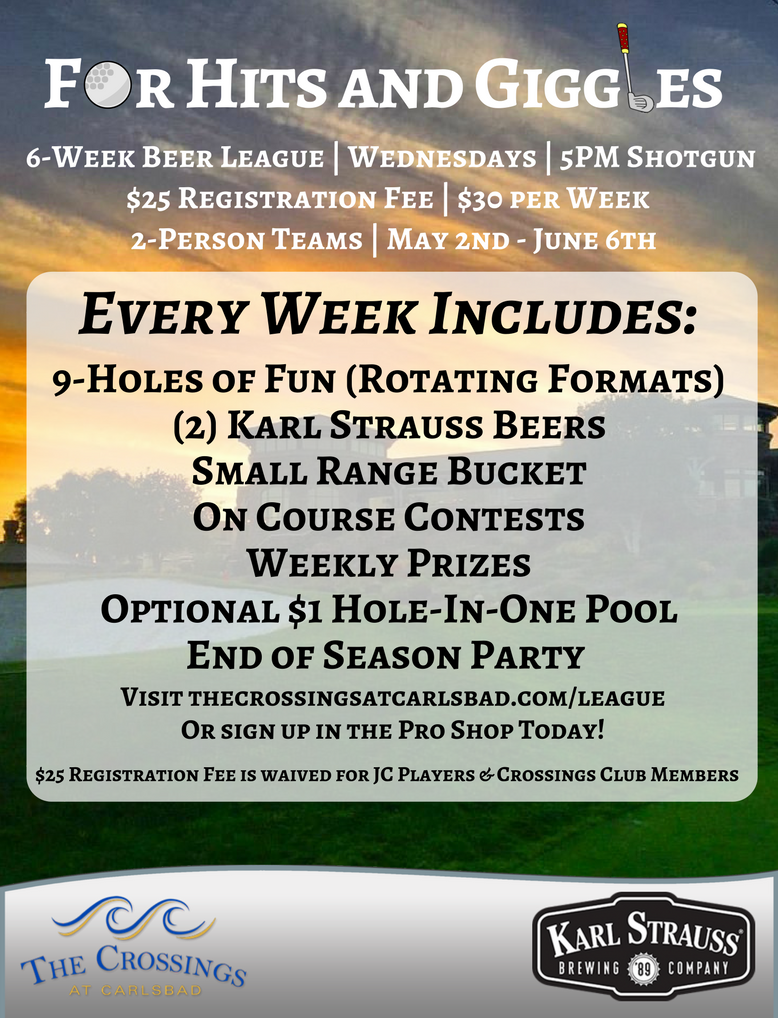 For Hits and Giggles - 5PM Shotgun Start on Wednesdays
May 2nd - June 6th
*You're not committed to every week, but if you show up all 6 weeks your team will win a free twosome!*

Grab a partner and join this fun Golf League on Wednesday evenings!
Each player pays $25 to join the league (this goes towards prizes and the party at Karl Strauss) and each player pays $30 each week which includes 9-holes, (2) Karl Strauss Beers, a small range bucket, contests & weekly prizes. On the last week of the league we'll head over to Karl Strauss for a few complimentary beers, appetizers and awards.

(The $25 registration fee is waived for Crossings Club Members and JC Players)
This is the 2nd of 3 seasons for this summer. We will take 1 or 2 weeks off in between seasons.